- - - - - - - - - - - - - - - - - - - - - - - - - - - - - - - - - - - - - - - - - - - - - - - - - - - - - - - - - - - - - - - - - - - - - - - - - - - - - - - - - - - -
Current projects
Contact Allergen Bank
Contact Allergen Bank Australia (CABA) is based on an idea which originated in Denmark and is a new initiative in Australia to assist dermatologists to diagnose allergic contact dermatitis (ACD). It involves the preparation of individualised patch tests which are sent out to dermatologists' practices.
Project aims:
To provide Australian dermatologists, particularly those in regional centres, with access to comprehensive patch testing resources, available in a timely manner
To improve the prognosis of patients with contact dermatitis, with the identification of allergens relevant to their skin condition
To collect data on the results of patch testing nationally
Enable dermatologists to develop experience and expertise in contact dermatitis, without the costs of purchasing allergens or paying for nursing staff
Dermatologists will select patch test series that they would like to test on a particular patient. The patch tests are then prepared at the Foundation and mailed to the dermatologist, together with a test sheet, prepared from our computerised patch testing program, CAMS. The dermatologist subsequently reports the patch test reactions to the centre for recording in our database. Once our website upgrade is completed, this process will be able to be performed on-line. In addition, later on in the year patient information sheets for more than 70 allergens will be available on our website.
Any questions or to
Register
for CABA, please ph. 03 9623 9402 or email
apalmer@occderm.asn.au
Skin School
'Skin School' will be the first Australian program designed to educate both patients who have been diagnosed with occupational contact dermatitis and their employers. It is based on a very successful program in Germany. It is important that employers understand the nature of occupational dermatitis and its prevention. Employers should be able to anticipate any possible problems which may be encountered in the workplace management of workers with dermatitis, including in return-to-work programs.
Objectives
To increase patients' understanding and awareness of the causes of occupational contact dermatitis
To educate employers about occupational dermatitis: its prevention and management; to communicate information regarding the need for modified work duties and a successful return-to-work program for workers with occupational dermatitis; and the need for optimal skin care and personal protective equipment in the workplace
To increase patients' understanding about the importance of use of appropriate skin care measures
To increase patients' knowledge about the use of appropriate skin personal protective equipment
To reduce the number of patients with ongoing, long-term occupational contact dermatitis
To improve the prognosis of people with occupational contact dermatitis.
Components of Skin School
There will be five components of the 'Skin School' program:
Educational DVD for patients
Employer/workplace booklet
Patient information booklet
Skin care product sample pack
In-person education sessions
RASH
RASH is a training package designed to educate the workplace, and students attending training institutions, about occupational contact dermatitis
RASH is a "train-the-trainer" style education package, aiming to raise awareness about appropriate ways this skin condition can be prevented. RASH can be used as a training tool in workplaces, eg. short 15 minute 'toolbox' talks or training sessions of about 30 minutes, or for induction training, for self-paced learning, or included in OH&S units at training institutions.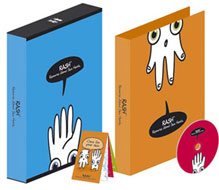 RASH product collage
RASH is designed for use in a wide range of industries using the general information and general presentation. There are also 5 industry-specific sections included in the reference guide and on the CD-ROM. The industries selected are those commonly affected by work-related skin problems.
These include:
Construction
Food handling
Hair and beauty
Healthcare
Mechanical and automotive
For more information or to order a copy of RASH visit
www.rashprevention.com.au
Interesting Cases CD-ROM
The Occupational Dermatology Research and Education Centre, Skin and Cancer Foundation, Victoria, have recently released a new CD-ROM. The CD is titled
'Interesting Cases from the Occupational Dermatology Clinic
,' and is designed to be an educational tool for practitioners; dermatologists, occupational physicians and occupational hygienists and others who may treat patients or workers with occupational skin disease.
Occupational skin disease is an important cause of work-related disease. By far the most cause of occupational skin disease is occupational contact dermatitis, with irritant contact dermatitis significantly more common than allergic contact dermatitis. There is often a delay in making the exact diagnosis, which may adversely affect the prognosis. Sometimes, the occupational nature of disease is not suspected by the treating practitioner, leading to a delay in referral for assessment. There is evidence that shows the earlier the diagnosis is made, the better the prognosis.
This CD contains 60 de-identified clinical cases. For each case there is a summary of clinical information including history, examination of findings, patch test results and blood test results, final diagnosis, advice given to patient and photographs. Key teaching points are also presented for each case, along with relevant references.
This CD was produced with support from the Australasian College of Dermatologists and the Skin and Cancer Foundation, Victoria.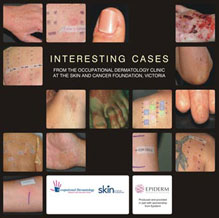 Interesting cases
For more information or to order a copy ph. 03 9623 9402 or email
admin@occderm.asn.au
Cost is $50 plus postage and handling.
Skin Watch: A follow-up project
Skin Watch is a study about the outcomes of occupational contact dermatitis, involving follow-up of clinic attendees from 1998-2004 to ascertain the current status of their skin condition, its effect on their employment and also other social and economic impacts.
It is hoped that risk factors, which contribute to a worse prognosis for occupational contact dermatitis, will be identified. This will contribute to the development of strategies for the prevention of OCD in the future.
Over 150 people were interviewed either in person or by telephone about their skin condition. Results are currently being analysed and prepared for publication.
- - - - - - - - - - - - - - - - - - - - - - - - - - - - - - - - - - - - - - - - - - - - - - - - - - - - - - - - - - - - - - - - - - - - - - - - - - - - - - - - - - - -
Recent projects
Skin@Work


Recent Skin@Work project
The 'Skin@Work' education kit aims to raise awareness of potential work-related skin problems.

Students are at greater risk of developing work-related dermatitis if they have a personal or family history of eczema, asthma or hay fever.

The kit has been specifically designed and developed for career counsellors, and includes resources for students and their parents.

Career counsellors have been targeted because they have an important role in advising students about their future job choice.

The Skin@Work kit encourages career counsellors to talk about skin safety when counselling students.
Skin exposure surveillance
The Skin Exposure Surveillance project was conducted by the Occupational Dermatology Research and Education Centre, Skin and Cancer Foundation, Victoria, on behalf of the Office of the Australian Safety and Compensation Council.
The aim of this pilot project was to report on the extent of certain potentially hazardous exposures in a selection of Australian workplaces. The hazardous exposures were chosen by a working group convened by OASCC, including representation from ODREC, and included important causes of occupational dermatitis.
Hazards focused on were wet work, in particular the number of times some workers wash their hands each shift; the use of powdered latex gloves and the use of epoxy resins, which are strong skin sensitizers. A total of 200 people were surveyed from the hairdressing, healthcare and food handling industries, and also workers using epoxy resins.
The study also provided an estimate of the number of workers nationally from these industries who may be exposed to powdered latex gloves, wet work and epoxy resins.
Results from this project highlighted:
Hairdressers inappropriately wore latex gloves, which were almost always powdered.
In most circumstances healthcare workers wore appropriate non powdered latex or nitrile gloves, with the exception of two cases where vinyl gloves were worn, which provide suboptimal protection from blood borne pathogens.
Epoxy resin workers often wore gloves which do not offer sufficient protection from epoxy resins.
Food handlers, hairdressers and healthcare workers washed their hands many times during a working day, and often more than recommended by national and international guidelines.
Moisturiser use was suboptimal in those who performed wet work, suggesting the need for a comprehensive skincare program in workplaces, such as provided by the RASH educational tool.
In summary, use of exposure surveillance to both raise awareness and monitor trends in exposures can be an important step in the prevention of occupational contact dermatitis. We believe that this mode of exposure surveillance has great potential, especially when focusing on one particular variable. This study not only provides important evidence detailing the existence in Australia of a number of reversible risk factors for occupational dermatitis, but also highlights the opportunity for effective campaigns to tackle these risk factors through education of the workforce.
A full report of the project available at
www.ascc.gov.au
Wet work


Guidance on the Prevention of Dermatitis caused by Wet Work
Guidelines developed by the Occupational Dermatology Research and Education Centre and the Office of the Australian Safety and Compensation Council, titled 'Guidance on the prevention of dermatitis caused by wet work,' are now available.

These guidelines aim to encourage employers and their employees to be more aware of wet work and what wet work can do to a person's skin.

Excessive wet work leads to dermatitis and this can often be avoided with some careful planning in the workplace.

This publication is suitable for all workplaces where wet work is performed; however industry specific information sheets are also available.
Guidance booklet and industry specific sheets available at:
www.ascc.gov.au

The incidence and prevalence rates for occupational contact dermatitis in an Australian suburban areat
The extent of cases of work-related contact dermatitis is not reflected in available statistics. This study aimed to collect and verify occupational contact dermatitis (OCD) reports/ referrals and generate disease estimates for a defined geographical area in Melbourne, Australia. This study utilized reports from GPs and dermatologists. The incidence rate for confirmed cases of OCD was 20.5 per 100,000 workers. The 1-yearperiod prevalence rate was 34.5 per 100,000). In comparison, Victorian WorkCover datasets report a rate 6.55 per 100,000 workers. This is the first study to report rates of OCD in Australia.
Keegel T, Cahill J, Noonan A, Dharmage S, Saunders H, Frown K, Nixon R. Incidence and prevalence rates for occupational contact dermatitis in an Australian suburban area.
Contact Dermatitis
2005; 52:254-9.
Persistent post-occupational dermatitis
Dr Leon Wall from Western Australia coined the term 'persistent post-occupational dermatitis' in 1991, to describe some 10-15% of patients who attended his clinic, whose skin did not get better, despite avoiding causative allergens and irritants. Our group reported a case series of such patients in 2004, and proposed recommendations on the definition of criteria used for occupational dermatitis.
Sajjachareonpong P, Cahill J, Keegel T, Saunders H, Nixon R. Persistent post-occupational dermatitis.
Contact Dermatitis
2004; 51: 278-83.
Occupational dermatitis causing flares of atopic eczema
This is another cases series, where we describe a series of patients with occupational contact dermatitis without a rash on their body, who then experience a flare of what appears to be widespread atopic eczema, but which appeared in the context of occupational dermatitis.
Cahiil J, Williams J, Nixon R. Occupational autoeczematisation, or atopic eczema precipitated by occupational contact dermatitis?
Contact Dermatitis
2006; 22007; 56:21-26.
A new severity scale for occupational dermatitis of the hands
Our group has published a new severity scale, based both on clinical parameters and functioning, for use in assessment of occupational contact dermatitis of the hands.
Curr N, Dharmage S, , Keegel T, Lee A, Saunders H, Nixon R. The validity and reliability of the occupational contact dermatitis disease severity index.
Contact Dermatitis
2008; 59: 157-164.
Occupational contact urticaria
We have recently analysed our cases of this condition, which is so far the largest published series to date.
Williams JDL, Lee A, Matheson M, Frown K, Noonan A, Nixon. Occupational contact urticaria: Australian data.
Brit J Dermatol
2008; 159: 125-131.
Epidemiology of occupational contact dermatitis
We have recently published a review article looking at data world wide.
Keegel T, Moyle M. Dharmage S, Frowen K, Nixon R. The epidemiology of occupational contact dermatitis (1990-2007): a systematic review.
Int J Dermatol
2009; 48: 571-578.
Basic Red 46: Identification of a new cause of foot dermatitis in Victoria
In 2004, our group reported on a new cause of foot dermatitis identified in Melbourne, from basic Red 46, a dye in dark coloured acrylic-nylon blend inexpensive work socks. Unfortunately, such socks are still available and we still continue to see cases of this preventable problem.
Opie J, Lee A, Frown K, Fewings J, Nixon R. Foot dermatitis caused by basic red 46 in acrylic-blend socks.
Contact Dermatitis
2004; 49: 297-303.
People made allergic to hair dye following use of a 'henna' or temporary tattoo - travellers beware!
We have seen a variety of patients who have developed severe allergies to hair dye, following a temporary tattoo, which they believed contained henna. In fact para-phenylenediamine was used, to which they became allergic. These people cannot subsequently tolerate exposure to permanent hair dyes (containing para-phenylenediamine) used on their scalp or in eyelid or eyebrow tinting. This is an absolute disaster for hairdressers, or those wishing to become hairdressers.
We would caution against the use of these tattoos, especially where the ingredients of the temporary tattoo cannot be ascertained. This phenomenon has been observed around the world, although many of our cases have had their tattoos performed in Bali.
Saunders H, O'Brien T, Nixon R. Textile dye allergic contact dermatitis,following paraphenylenediamine sensitisation from a temporary tattoo.
Australas J Dermatol
2004; 45:229-31
Mohamed M and Nixon R. Severe allergic contact dermatitis induced by paraphenylenediamine in paint-on temporary 'tattoos'
Australas J Dermatol
2000; 41:168-171