Careers Advice

Skin@Work Kit
- - - - - - - - - - - - - - - - - - - - - - - - - - - - - - - - - - - - - - - - - - - - - - - - - - - - - - - - - - - - - - - - - - - - - - - - - - - - - - - - - - - -
Guidelines for people with atopy
What is atopy?
Atopy is referred to having a personal or family background of eczema, asthma or hayfever.
Atopy and dermatitis
Having a history of these conditions as a baby or in childhood, even when they have gone away, increases the risk of developing work-related dermatitis, particularly affecting the hands. In fact, those who have had eczema at any age anywhere on the skin are four times more likely to develop work-related dermatitis. A history of eczema affecting the hands but not elsewhere especially increases an individual's susceptibility to develop occupational contact dermatitis.
People with atopy are more likely to have problems with their skin being able to repair itself; therefore the barrier function is often compromised, allowing greater opportunity for the development of irritation and allergy.
Work and atopy
People with a history of atopy, and that work in certain industries are at higher risk of developing skin problems at work. These include those working in:
Construction

Food handling

Hair and beauty

Healthcare and

Mechanical and metal working
If you have an atopic background, you should avoid contact with skin irritants which are known to cause dermatitis, right from the beginning of your employment. These include:
Wet work- frequent hand washing

Soaps and detergents

Oils and greases

Heat and sweating (which can be caused from wearing occlusive/water proof style gloves for long periods)

Dusts and fibre

Solvents and thinners
Wearing appropriate gloves is also important- specific gloves are designed for specific tasks and chemicals. It is best that you avoid wearing powdered latex gloves, as people with an atopic background are at higher risk of developing an allergy to latex, and glove powder is known to facilitate the development of latex allergy.
Wearing cotton gloves under occlusive gloves can reduce sweating.
Teenagers entering the work force, even part-time, in areas such as hospitality involving frequent hand washing are vulnerable to developing hand dermatitis. So are young people who are working casually or are on work experience programs, who have not entered formal apprenticeship programs where they hopefully will learn about occupational health and safety.
Home life
It is important that you are aware of things at home that can also cause dermatitis, and flare eczema. These particularly include hand washing and dishwashing, cleaning and soaps and detergents. Use of appropriate gloves is essential for these tasks. Different jobs may require different gloves. Also avoid contact with irritants when performing house renovations, car maintenance or other hobbies or activities around the house.
Skin care
People with atopy need to be vigilant about looking after their skin at work and at home. Refer to our 'Care of your hands' brochure for more information. Essentially, treatment includes use of appropriate gloves, soap substitutes and use of moisturising creams to the hands, especially at night. The importance of keeping the skin well moisturised cannot be under-estimated. Moisturisers have a particular role to restore skin barrier function.
People at very high risk
International studies have identified those at the highest risk of developing occupational dermatitis. These are people with
Moderate to severe atopic eczema with hand involvement

Chronic (long standing) hand eczema

Previous change of work because of hand dermatitis
It is important that such individuals are counseled on appropriate skin care before starting work. It may mean that they are not suitable for some jobs.
Reference: Coenraads PJ Diepgen TL Risk for hand eczema in employees with past or present atopic dermatitis Int Arch Occup Environ Health 1998; 71: 7-13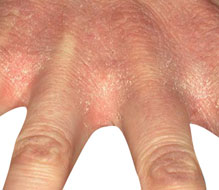 Example of dermatitis beginning in the web spaces between the fingers
- - - - - - - - - - - - - - - - - - - - - - - - - - - - - - - - - - - - - - - - - - - - - - - - - - - - - - - - - - - - - - - - - - - - - - - - - - - - - - - - - - - -
Skin@Work Brochures
Skin@Work is an education kit developed by our organisation, which aims to raise awareness of potential work-related skin problems.

Students are at greater risk of developing work-related dermatitis if they have a personal or family history of eczema, asthma or hay fever.

The kit has been specifically designed and developed for career counsellors, and includes resources for students and their parents.

Career counsellors have been targeted because they have an important role in advising students about their future job choice. This kit encourages career counsellors to talk about skin safety when counselling students.
As part of this kit there were 5 brochures, one of each of the industries most associated with developing skin problems at work.


Please note: Contact details on the brochures are no longer valid as our organisation has moved. Should you like further information please contact us on 03 9623 9402.
- - - - - - - - - - - - - - - - - - - - - - - - - - - - - - - - - - - - - - - - - - - - - - - - - - - - - - - - - - - - - - - - - - - - - - - - - - - - - - - - - - - -
Skin@Work booklet for career counsellors
The 'Skin@Work' education kit aims to raise awareness of a potential work-related skin problem- dermatitis.
It has been specifically designed for career counsellors and includes resources for students and their parents. Career counsellors are targeted because they are in a unique position to provide pre-employment advise to young people about future careers.
The need for this kit was identified after a study was conduced by our organisation (refer to Saunders H, Keegel T, Nixon R, Frowen K. Career Counsellors and occupational contact dermatitis, Contact Dermatitis, 2003, 48 (4) 189-90). Click here to read article. The study highlighted that very few career counsellros identified eczema as a risk factor for developing dermatitis, when advising studetns about careers. In our clinic we have found that many young people have had to give up their job after a relatively short time, because of skin problems.

To see the Skin@Work booklet click here.



Please note: Contact details on the booklet are no longer valid as our organisation has moved. Should you like further information please contact us on 03 9623 9402.
- - - - - - - - - - - - - - - - - - - - - - - - - - - - - - - - - - - - - - - - - - - - - - - - - - - - - - - - - - - - - - - - - - - - - - - - - - - - - - - - - - - -